Learn more and request your appointment below!
More About Teeth Whitening
---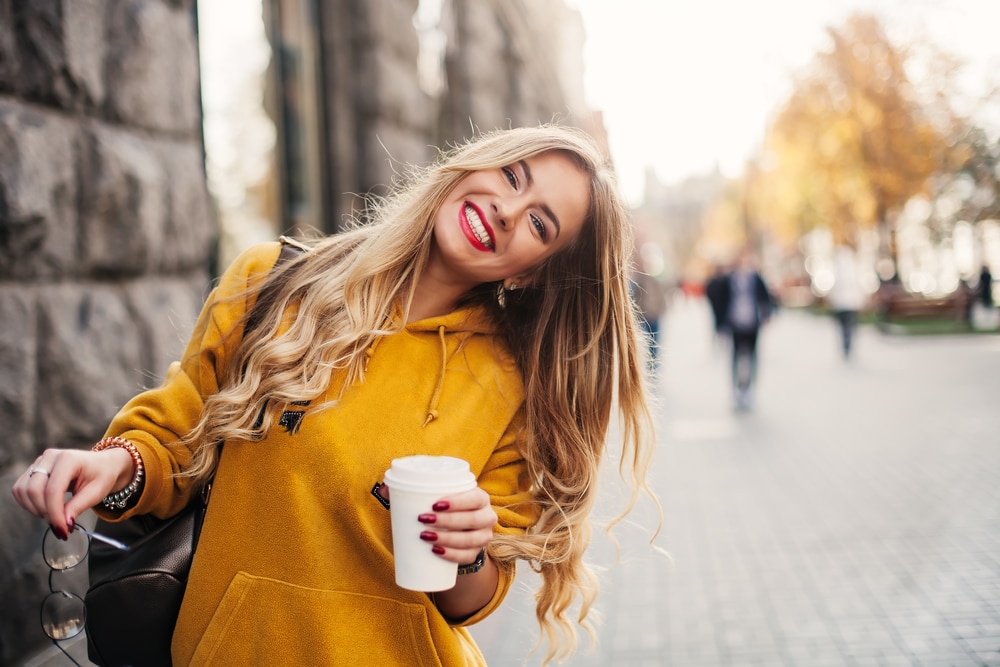 Parkview Dental in Vancouver provides teeth whitening services that can greatly improve your smile and teeth. Our teeth whitening services help to remove any discolouration or stains that may be present on your teeth.
Take the first step in feeling good and looking great with a whiter, brighter smile! Tooth whitening helps remove stains and discolouration from the enamel and dentin, and is one of the most popular cosmetic dentistry procedures at our Vancouver dental office.
Teeth Whitening Techniques
Of the various tooth whitening techniques available, we trust the Zoom! In-Office Whitening System (as seen on ABC's Extreme Makeover) and take-home bleaching trays to produce the greatest results. In order to suggest which option would be most suitable for your teeth, it is important that you come in for a teeth whitening consultation so that we can evaluate present colour and gum condition, and other factors that may affect the outcome. Book your teeth whitening appointment today!
Zoom! In-Office Whitening System
The Zoom! In-Office Whitening System is the ideal choice for the busy individual looking for immediate results. Zoom! is a revolutionary tooth whitening procedure that is safe, effective and very fast. In just over an hour, your teeth will be significantly whiter with an average improvement up to 8 shades.
The procedure begins with a short preparation to cover your lips and gums, leaving only your teeth exposed. The Zoom! Clinician then applies the proprietary whitening gel, which was designed specifically to be used with the Zoom! light. The light and gel work together to gently penetrate your teeth, breaking up the stains and discolouration. During this time you can relax, watch TV or listen to music. The gel is applied for 3 fifteen minute sessions for a total treatment time of 45 minutes. Finally, you go home with your whiter, brighter, Zoom! smile.
*A cleaning is recommended prior to the actual Zoom! Whitening sessions. New patients are required to have a complete examination.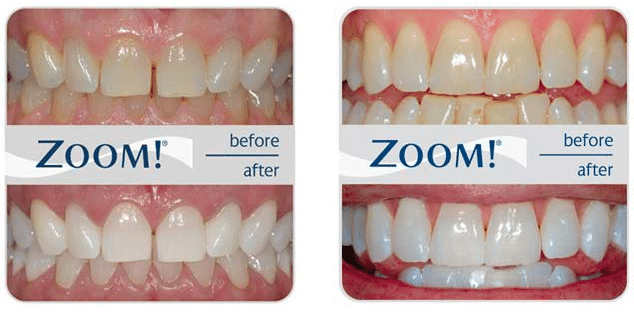 Take-Home Bleaching Trays
Take-home bleaching trays are an excellent option for patients requiring flexibility in their treatments. You can whiten your teeth in the comfort of your own home, and do touch-ups whenever you want – even while on vacation. Best of all, refills of the bleaching gel can be purchased directly at our office.
During your visit, an impression of your teeth is taken so that the right custom-fitted tray can be made. We will then select an appropriate bleaching gel for your teeth, which can range from a fast-acting 10 minute gel, or a gentler solution (designed for sensitive teeth) that is safe enough to fall asleep in. Results can often be noticed right after the first application and maximum teeth whitening results generally occur within 14 days of treatment.
With a few simple steps, a patient can revive the natural colour in their teeth or enhance the whiteness of their teeth to the best of their liking.
We encourage you to reach out to our friendly office staff at (604) 559-7270 to discuss the different teeth whitening options available for you!
Does teeth whitening cause sensitivity or pain?
Patients typically experience temporary increased tooth sensitivity after whitening, but sensitivity should return to normal levels 1-2 days after the procedure.
How long does a whitening session last?
The longevity of a teeth whitening session will largely depend upon your lifestyle choices, especially consumption of coffee and red wine, and smoking cigarettes, all of which can stain your teeth. Whitening can last anywhere from six months up to several years.
Treat you the same way we like to be treated
Educate ourselves by exceeding the continuing education credits required
Invest in dental technology and supplies
Challenge ourselves and our team to be the best
We accept all major insurance providers and can direct bill your provider for your convenience. Please contact our friendly staff to learn more about Insurance & Billing.

You can talk to us. We will ease your anxiety and assure that you are fully informed by answering all of your questions. When all is said and done, we can even have fun.
We know that dentistry is not what is used to be. At Parkview Dental we embrace technology to ensure that your visit is as comfortable as possible.
We value what you have to say and we constantly work to satisfy your needs. Our quality of service is because of you and your great feedback. We are proud to have over 250 Google reviews.
Our reviews are censured by the dental college - please click on the links to view our Google listing and RateMD listing. We love reading all of the positive feedback we get! We are proud to have over 250 Google reviews 🙂
We are so thankful to have such amazing patients who have taken the time to share their experiences on Google, Facebook, RateMDs, and other online sources.
Dr. Ayoughi.
Dentist @ False Creek
Contact us and let us help you achieve your smile goals today.
---
3665 Kingsway #230
Vancouver, BC V5R 5W2
Mon: 9:00 AM - 5:00 PM
Tues: 9:00 AM - 5:00 PM
Wed: 10:00 AM - 7:00 PM
Thur: 10:00 AM - 7:00 PM
Fri: 9:00 AM - 5:00 PM
Sat: 9:00 AM - 4:00 PM
Built with Connect the Doc